"Szymel Grizzly Torben" yra jaukios ir stilingos veltinio klumpės moterims, puikiai tinkančios dėvėti tiek patalpose, tiek lauke. Šios šlepetės pagamintos iš aukštos kokybės veltos vilnos, todėl yra neįtikėtinai patogios, šiltos ir pralaidžios orui. Vilna natūraliai praleidžia drėgmę, todėl jūsų kojos išliks sausos ir be kvapo visą dieną.
Šlepetės "Grizzly Torben" yra klasikinio dizaino su tvirtu guminiu padu, kuris užtikrina puikų sukibimą su slidžiu paviršiumi, todėl tinka naudoti tiek patalpose, tiek lauke. Šlepetės ,taip pat, turi pagal pėdos formą prisitaikantį kamščio medžiagos vidpadį, kuris išlaiko jūsų pėdos taisyklingą formą ir amortizuoja pėdą.
Įvairių spalvų "Grizzly Torben" šlepetės pasižymi nesenstančia išvaizda, kuri papildys bet kokią aprangą.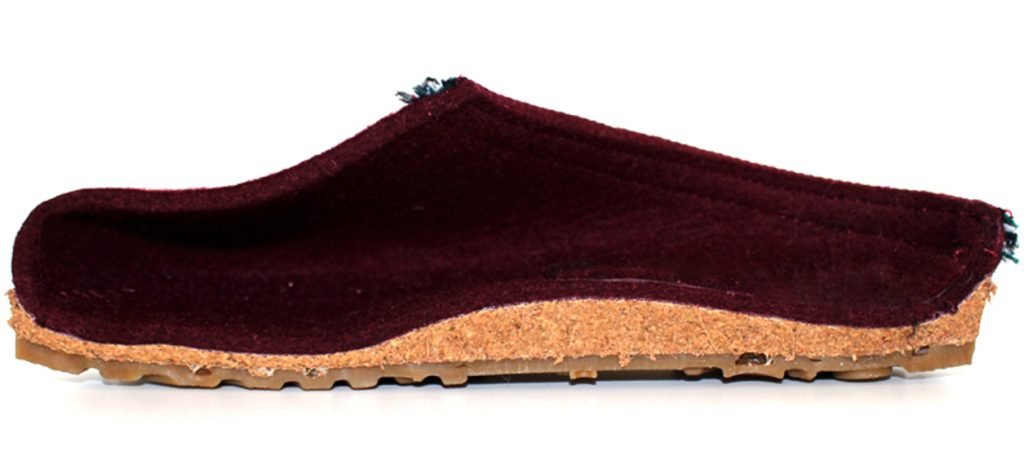 Be to, veltinio klumpės turi erdvią kojų pirštų sritį, todėl pirštai gali išsitiesti ir atsipalaiduoti, o tai skatina geresnę kraujotaką ir mažina pėdų nuovargį. Šlepetes taip pat lengva užsidėti ir nusiauti, todėl jas patogu avėti vyresnio amžiaus žmonėms.
| | |
| --- | --- |
| Dydis | Vidpadžio ilgis (CM) |
| 36 | 23.8 |
| 37 | 24.5 |
| 38 | 25.1 |
| 39 | 25.8 |
| 40 | 26.5 |
| 41 | 27.1 |

Kas yra "Szymel"?
Nuo 1952 metų "Szymel" yra avalynės gamintojas. Beveik 25 metus bendradarbiaujantis su labai technologiškai pažangiomis Vokietijos įmonėmis, kurių dėka sugeba pagaminti labai aukštos kokybės produktus už priimtiną kainą.
Visi "Szymel" gaminiai yra rankų darbo, gaminami Lenkijoje.
Visos šlepetės yra pagamintos iš šių medžiagų:
– išorinė medžiaga: 90% vilnos veltinio ir 10% natūralių pluoštų.
– šlepečių vidpadis iš veltinio yra profiliuotas po kulnu 1 cm aukštyje, o tai žymiai padidina komfortą.

Įdėklas yra pagamintas nenaudojant klijų, todėl Jūsų oda neturi jokio kontakto su cheminėmis medžiagomis.

– šlepečių svoris: 750 g